SLIP RING AUROTAC®


SERVICE AND INSTRUCTIONS MOUNTING
Assure good mechanical locking of the slip ring as well as correct earthing of it as described on paragraph "examples of mounting".
During installation check that the mechanical "play" between fixed part and mobile part of the slip ring is lower than ±0,2 mm in order to minimize as much as possible mechanical stress due to induced
vibrations causing shortening of average life of the slip ring.
The cable must be strip with suitable tools and/or with sharp blades in order not to ruin the underlying strands or in the shielded cables. Avoid stresses or tensions between the slip ring body and the cable outputs. Ensure correct connections on sockets. Damaged cables may cause slip ring operation failures.
• The AUROTAC® slip ring unit can be used both horizontally and vertically.
• Provide current protection (fuse) on wires attached to slip ring.
   Over-current conditions can cause failure of slip ring.

CAUTION:
The aluminum body may be electrically "hot" after failure.
Disable power source before handling a suspected failed slip ring.

MAINTENANCE
As the electrical coupling is dry (it means that lubricant oils are not needed), maintenance is not required.
Please request technical specifications: info@eletca.it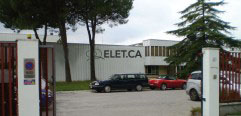 ELET.CA
via Pistoiese, 155/A
50058 Signa, Firenze - Italy
phone +39 . 055 895 19 44
fax +39 . 055 895 44 29
info@eletca.it
GPS • Lat. 43.804807 | Long. 11.119247