SLIP RING AUROTAC®


APPLICATIONS
The range of utilization of standard AUROTAC® having the characteristics described hereunder includes the transfer of continue or modulated signals from and to different peripherals, instrumentation, coils, thermocouples*, RTDs*, robotics, turntables, data Bus, television cameras, etc… within limits of standard configuration.
* For signal transfer on RTDs and thermocouples, the use of conversion modules with current 4-20 mA is recommended. 

OPTIONALS
To fulfill special or standard requirements or to improve the pass-band of the slip ring, it can be equipped with cables and special fittings, electric shielding and everything needed for special uses (customers requirements).

UTILIZATION FOR DIGITAL SYSTEMS
Physical limits of operation frequency impedance and data-rate of standard cables can be widely over come by using twisted cables fulfilling standards of cables in conformity with 5, 5e, 6 categories and in accordance with IEEE 802.3 standards for employments in Giga-Bit – Ethernet.
Please request technical specifications: info@eletca.it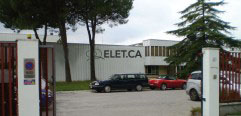 ELET.CA
via Pistoiese, 155/A
50058 Signa, Firenze - Italy
phone +39 . 055 895 19 44
fax +39 . 055 895 44 29
info@eletca.it
GPS • Lat. 43.804807 | Long. 11.119247